Dell PowerEdge is a server line by Dell, following the naming convention for other Dell products: the PowerVault (data storage) and the PowerConnect (data transfer & switches).
Below is an overview of current and former servers within Dell's PowerEdge product line. Different models are or were available as towers, 19-inch racks or blades. In the current naming scheme, towers are designated by T, racks by R, and blades by M (for modular).The 19″ rack-servers come in different physical heights expressed in rack unit or U. Most modern servers are either 1U or 2U high while in the past the 4U was more common
Model naming
Over the years, many different types of PowerEdge servers have been introduced and there was wide variety of product and family codes used within the PowerEdge name.
Itanium servers
The Dell Itanium-based servers were introduced before this new naming-convention was introduced and were only available as rack servers.
New naming convention
Since the introduction of the Generation 10 servers in 2007 Dell has adopted a standardized method for naming their servers; the name of each server is now represented by a letter followed by 3 digits. The letter indicates the type of server: R (for Rack-mountable) indicates a 19″ rack-mountable server, M (for Modular) indicates a blade server, whilst T (for Tower) indicates a stand-alone server.
This letter is then followed by 3 digits.
The first digit refers to the number of sockets in the system: 1 to 3 for one socket, 4 to 7 for two sockets, and 8 or 9 for four sockets.
The middle digit refers to the generation: 0 for Generation 10, 1 for Generation 11, and so on.
The third digit indicates the make of the CPU: 0 for Intel or 5 for AMD.
For example: The Dell PowerEdge M610 is a two-socket server of the 11th generation using an Intel CPU whilst the R605 is a two-socket AMD-based rack-server of the 10th generation.
Dell 13th Generation PowerEdge Server Resources
The 13th generation of Dell PowerEdge servers brings you powerful server solutions to accelerate workloads, automate management and simplify deployment. In our most advanced lineup of rack, tower and shared infrastructure platforms to date, you get peak performance, versatile configurations, zero-touch deployment and intelligent management embedded in every server.
Next-generation PowerEdge servers deliver more performance, more density, and more intelligent options, like:
An optimal mix of flash and high-capacity local drives for virtual storage solutions
Double the storage throughput for dramatically faster access
A range of IO and RAID choices so you can fine-tune application performance
This page serves as an in depth technical resource and aggregation point for technologies relevant to the Dell PowerEdge 13th Generation of servers.
Our next-generation PowerEdge servers combine state-of-the-art industry advances in processing and memory technology with customer-inspired Dell innovations that optimize for choice and flexibility at any scale. The first of these servers include:
PowerEdge R730xd: This 2-socket, 2U rack server is designed for the scale-out storage efficiency. New flash-capable configurations mean fast data access for faster applications performance. Configurations include 1.8″ SATA SSDs, 12Gb SAS SSDs and ultra-high-performance NVMe Express Flash PCIe drives that enable optional Dell Fluid Cache application-acceleration technology.
PowerEdge R730: This 2-socket, 2U high performance rack server, with the Intel® Xeon® processor E5-2600 v3 product family and up to 24 DIMMs of DDR4 RAM, has the processing cycles and threads and large memory footprint necessary to deliver more, larger and higher-performing virtual machines for data centers and cloud platforms.
PowerEdge R630: This 2-socket, 1U rack server has a large memory footprint and superior IO performance, as well as storage flexibility of up to 24 x 1.8″ flash SSDs or 10 x 2.5″ HDDs (with an option to replace four HDDs with four PCIe SSDs) providing an ideal solution for large-scale transactional and analytical processing solutions, such as Oracle and SQL.
PowerEdge T630: Drive rapid response times with the latest Intel® Xeon® processor E5-2600 v3 product family, DDR4 memory and seven I/O slots in this powerful and flexible 2-socket tower server, supporting up to 32 x 2.5″ or 18 x 3.5″ hard drives.

Blade servers
Since Generation 10 there are models for the M1000e enclosure. The blade-servers in Generation 8 and Generation 9 are using another enclosure that is not compatible with the current M1000e system. In form-factor there are two models: half-height and full-height. In an enclosure you can fit 8 full or 16 half-height blades (or a mix). Each server has two or four on-board NIC's and two additional Mezzanine card-slots for additional I/O options: 1 Gb or 10 Gb Ethernet cards, Fibre ChannelHBA's or InfiniBand slots. Apart from USB connectors a blade-server doesn't offer direct connections: all I/O goes via the midplane of the enclosure.
PowerEdge RAID Controller
Dell uses the name PowerEdge RAID Controller (PERC) for proprietary versions of its RAID computer storage controllers. The related software in the PERC Fault Management Suite offered facilities such as the Background Patrol read, which aims to fix bad sectors on online RAID disks running under some of the PERC controllers around 2006. These cards were equipped with hardware from LSI Corporation or Intel, 256 MBytes of memory (upgradeable on the 5/i to 512 MB), support up to 8x SATA 3.0 Gbit/s drives without the use of expanders. They had an optional Battery Backup Unit (BBU) to allow more flexible use of the memory during writes, enhancing performance in RAID5 and 6, and operate over the PCI Express interface.
Chassis systems
Although PowerEdge is mainly used to refer to servers there are a few systems where the term PowerEdge refers to systems of which servers are (just) a part. Examples of these usages are:
PowerEdge M1000e – the Dell blade-server system where the complete system uses the term PowerEdge, and M1000e refers to the chassis and the complete combination of components in them. The individual non-server components have also their own name in their 'own' family such as PowerConnect M-switches or EqualLogic blade-SAN.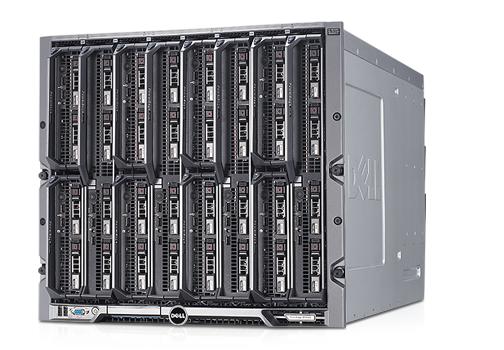 PowerEdge VRTX – the converged system consisting of (up to) 4 PowerEdge M-blade servers, the built-in storage solution and the I/O networking module.