For data storage in Dell we use PowerVault. It is a line of data storage and backup products from Dell.when Dell acquired EqualLogic for its iSCSI products in 2008, and Compellent Technologies in 2011, the PowerVault line was positioned as less expensive than the other product lines.
Direct Attached Storage
MD1000
3U, up to 15 drives, 3 Gbit/s SAS or SATA. Uses the PERC 5/e and 6/e as its RAID controller. This unit is no longer available directly from Dell.
MD1120
2U, up to 24 drives, 3 Gbit/s SAS. Uses the PERC 6/e as its RAID controller.
MD1200
2U, up to 12 drives, 6 Gbit/s SAS. Uses the PERC H810 as its RAID controller.

MD1220
2U up to 24 drives, 6 Gbit/s SAS.
MD1280
5U, up to 84 drives, 6 Gbit/s SAS. It can hold 672 TB raw when fully populated with 8 TB hard drives.
MD1400 and MD1420
The MD1400 and MD1420 are identical units except that the 1400 holds 12 drives while the 1420 holds 24.
2U, 12 Gbit/s. Uses PERC9 series controllers (e.g. H330, H730, H830).The MD1400 supports up to 12 drives in a single chassis, while the 1420 supports 20 drives. The 1400 can be either 3.5″ or 2.5″ drives while the 1420 can only take 2.5″. Up to eight of these enclosures can be connected to a single PowerEdge server.
MD3000
This unit is no longer sold directly by Dell. It supports being connected up to four PowerEdge servers simultaneously via dedicated iSCSI gigabit ethernet ports, as well as running as network attached storage via two other gigabit ethernet ports which allows it to support up to 16 Linux or Windows servers. The dual redundant on-board hardware RAID controllers have 512 megabytes of cache RAM. It would accept up to 15 3.5″ SAS drives, and had dual power supplies. It also could serve as a controller for up to two MD1000 units, resulting in a total drive count of 45. 3 Gbit/s SAS or SATA.
MD3060e
4U, up to 60 drives, 6 Gbit/s SAS.
MD3200
Has 4x 6Gbit/s SAS ports and is 2U with 12 3.5″ drives.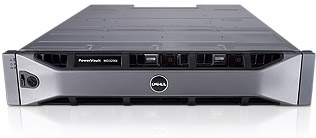 MD3220
Has 4x 6Gbit/s SAS ports, is 2U, with 24 2.5″ drives.
MD3400
2U, 12 Gbit/s, 12 drives.
MD3420
2U, 12 Gbit/s, 24 drives.
MD3460
Holds up to 60 drives. Optional features include snapshots, snapshots plus virtual disk copy, firmware upgrade to increase array performance, remote replication, and SSD cache.
Storage Area Network
It includes the PowerVault MD 3200i, 3400, 3420, 3460 for 1 Gb iSCSI, MD 3800I, 3820I, and 3860I for 10 Gb iSCSI, and the MD 3800f, 3820f, and 3860f for fibre channel.
1. 705N
The PowerVault 705N is similar to general-purpose servers, except that it is designed specifically to store and share files. Like general-purpose servers, it contains a processor, memory, network port, and hard disks; but like an appliance, it does not have any unnecessary or additional components—such as PCI slots or video controllers—that can affect reliability. The custom operating system is armed with only the required functionality: No system or peripherals installation is required. The PowerVault 750N is plugged into the network, configured, and then ready for use, much like a network printer. Users can map directly to the PowerVault 705N without "talking" to a network server.
Uses
General-purpose storage: Support various types of storage requirements for small businesses, remote offices, and corporate workgroups
First server: Implement the network's first server for sharing files and static Web serving
Distributed storage server: Improve network performance by distributing storage and isolating network traffic in high-traffic departments
High-performance data protection and backup server: Use as a high-speed backup destination running remote mirroring software, file synchronization software, and popular backup packages
Software distribution server: Use to store images for software distribution using utilities such as Symantec® Ghost or PowerQuest® Drive Image® 2.0 Professional
Portable server: Use for temporary deployments, transferring files between locations, or for off-site archives
Temporary storage server: Use for high-speed, short-life backups when staging systems or downloading large files from the Internet
Personal storage: Use as your own personal server, store sensitive files away from the main system, or secure the whole server in a safe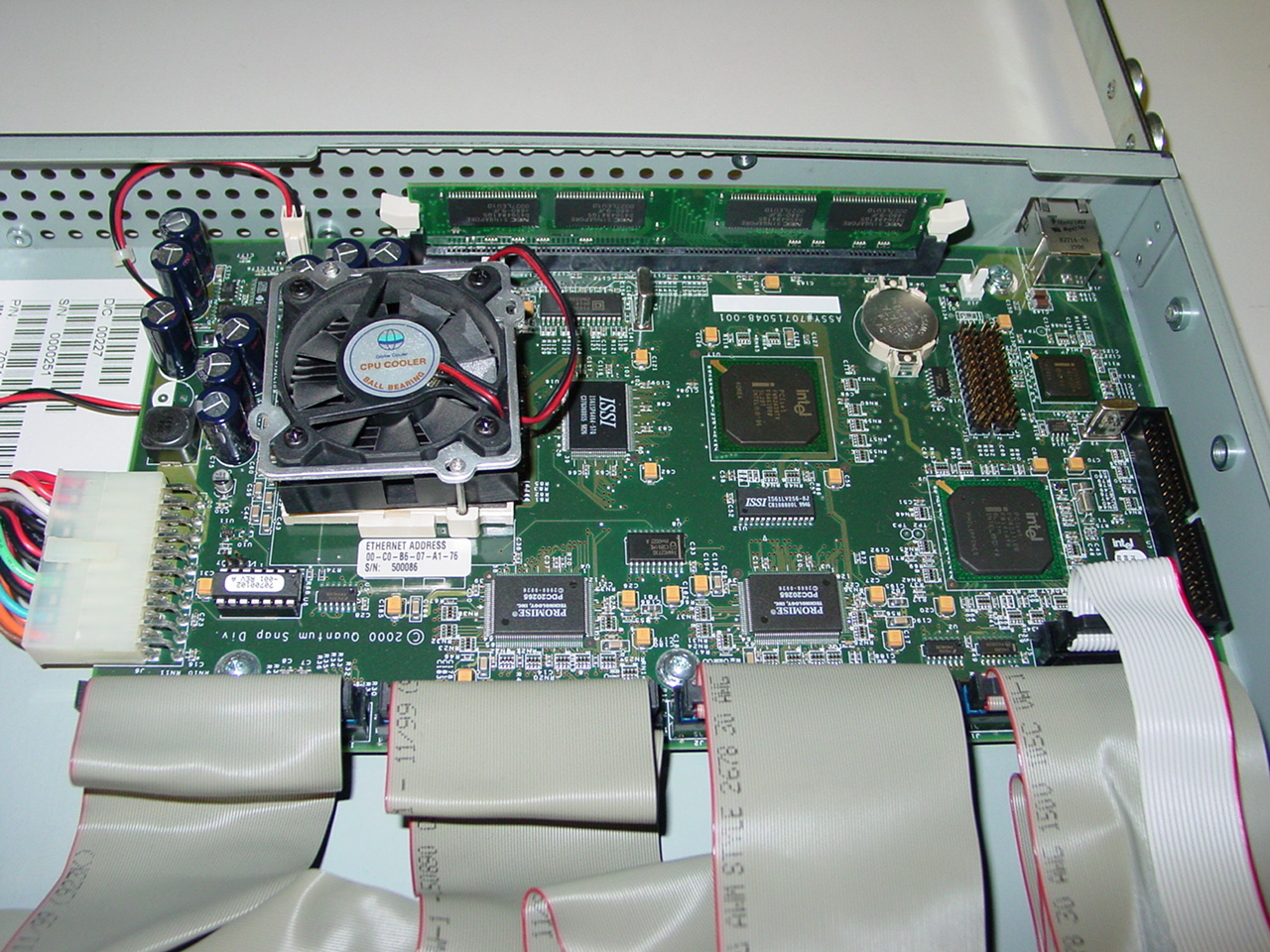 2. 715N
The Dell Power Vault  715 N storage server is the entry-level member of the Dell family of NAS systems. It has a Microsoft  Windows Powered operating system, Dell OpenManage integration, point-in-time capture software, dual 10/100BaseT Ethernet ports, and front-loading, easily serviced drives. It also includes a SCSI port for local, LAN-free tape backup. To better understand the capabilities of the PowerVault 715N, Dell conducted several scalability and performance tests.
Scalability of the PowerVault 715N
To size the Power Vault 715 N storage server, Dell used Mercury Interactive Load Runner version 7.02, a leading load-testing product. One of the software's most important features is its ability to emulate many clients on a single system. Load Runner 7.02 supports several well-known protocols and major software packages used today. For testing, Dell used a combination of Microsoft PowerPoint , Word, and Excel documents to create the test load.
PowerVault 715N test configuration
Dell tested a PowerVault 715N server with the following configuration:
Processor:

 Intel  Pentium  III processor at 1 GHz

Memory:

  512 MB SDRAM

Storage:

  Four internal Western Digital  7200 rpm 120 GB hard disk drives (480 GB total)

Network connectivity:

  Two on-board Intel 82559 10/100 Mbps Ethernet network interface cards (NICs); the NICs were load balanced during testing

Operating system:

  Microsoft Windows Powered operating system based on Windows 2000 Advanced Server

On-board RAID level:

  RAID-5

PCI (Peripheral Component Interconnect) slots:

  One
3. 725N
The PowerVault 725N storage server is an ideal solution for backing up clients and servers, consolidating your existing storage and for adding incremental storage to your networks for use by clients or servers. It connects directly to existing local area networks (LANs) offering simple deployment, which can help you conserve your valuable IT resources.
The PowerVault 725N is ready to go right out of the box, allowing you to:
• Install in as little as 15 minutes without any network downtime required
• Manage from any remote, Web-accessible location with the intuitive Web-based systems management utility
• Service easily with front-loaded drives and tool-less access for most internal components
• Deploy throughout your network environment
Outstanding Value
The PowerVault 725N offers built-in multi-platform file sharing services and security so that it can easily support a wide range of computing platforms, a feature designed to help lower costs as it helps to increase manageability. Operating system support includes Microsoft Windows NT, Windows 2000, NetWare, Linux and Macintosh. This all-in-one solution comes with incredible performance features for the price, including:
• Lower upfront costs than a general-purpose server
• No client license fees, so you can grow your client base without additional costs
• Streamlined architecture designed to minimize failures and simplify maintenance
• The capacity and configurability you need to fit your budget as well as your storage needs – 160GB, 320GB
• 480GB and 1TB models
Powerful Data Protection
Powered by a streamlined Microsoft Windows operating system, the PowerVault 725N helps provide seamless integration into network environments, giving you the flexibility to configure a reliable storage system for your network. You can configure the system as individual independent disks, opt for RAID 0 for performance benefits, or choose the data protection provided by RAID 1 or RAID 5 (factory default). Two PCI slots allow you to add optional adapter cards such as a SCSI controller for tape backup. There are several third party software packages certified on the PowerVault 725N that can help you with management, disaster recovery or backup. Storage Management Software can help you manage quotas and generate reports on storage allocation. PowerQuest DataKeeper software is available as an excellent client backup solution. And NSI DoubleTake offers byte-level
replication for backup or disaster recovery. You can also manually configure third-party software products from VERITAS and Computer Associates for integration into your existing network backup schemes. The PowerVault 725N offers outstanding data protection and system availability with the following features:
• System file protection, which helps prevent required files from being deleted
• Two, load-balanced, failover 10/100/1000 Ethernet controllers
• Redundant operating system images
• ActiveArchives data capture utility, designed to help protect data from accidental damage or deletion by creating and preserving volume images.
The PowerVault  725N offers storage for your vital information that's ready to go… simply, cost effectively, powerfully.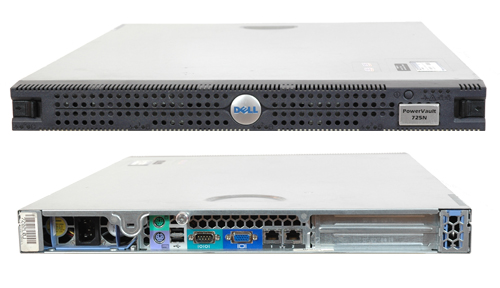 4. 745N
The PowerVault 745N Network Attached Storage (NAS) server is an exceptional option for adding capacity to consolidate storage or for external backup. It provides excellent features and performance when compared to other entry-level storage servers, and delivers high performance and scalability while at a low total cost of ownership (TCO) through:
• Rapid deployment
• Built in multi-platform support – including Microsoft Windows, Macintosh, UNIX NFS, Linux and NetWare
• Enhanced data protection and system availability
• Simplified zero-impact upgradeability
• Low up-front costs
Make It Simple
The PowerVault 745N provides simplified deployment and management. It's preconfigured for serving data, requiring less time and effort for installation with:
• Deployment in as little as 15 minutes
• Built-in Microsoft Windows Storage Server 2003 operating system
– Designed for reliability and seamless integration in network environments
– Plug and Play, automatically detecting hardware additions or modifications
• Easy-service options
– Tool-less access for most internal components
– Front-loaded, hot-swap hard drives
The PowerVault 745N provides an intuitive, Web-based management interface offering convenient, flexible, centralized administration and system management from any remote location with Web access. Enhanced management capabilities enable easy management of multiple devices and even provide advanced status monitoring.
Easing administration even further, PowerVault 745N supports dynamic Windows 2003 services, such as Volume Shadow Copy Service (VSS). VSS "Snapshots" allow administrators to create and preserve volume images at discrete points in time. Shadow Copies on the PowerVault 745N can be created on the fly or scheduled for routine protection.Flexible Performer
The PowerVault 745N provides exceptional functionality and scalability, allowing you to configure it to be the right storage solution for your computing environment. It comes equipped with up to 1TB of internal storage (across four 250GB hard drives), and up to two external (PowerVault 220s or Dell/EMC AX100 disk arrays) can be connected to increase capacity to as much as 8.4TB. The PowerVault 745N includes two PCI slots supporting RAID and External Storage systems and also allowing for options such as SCSI host adapter cards for tape device connections (the PowerVault 745N supports direct connection of PowerVault tape backup solutions, including the PowerVault 114T Tape Rack Enclosure, PowerVault 122T or 124T Tape Autoloader and PowerVault 132T Tape Library). Dual embedded 10/100/1000 NICs offer Gigabit1 Ethernet connections. With optional data protection software from VERITAS and Yosemite Software, PowerVault 745N can integrate seamlessly with your legacy network backup solutions. There are two operating system options for the PowerVault 745N. The base level operating system for the 745N is Windows Storage Server 2003 Standard Edition. It supports the enhanced hardware of the PERC card and can be upgraded at the time of purchase to Windows Storage Server 2003 Standard Edition with Print. The PowerVault 745N provides extensive performance and flexibility at a cost value that cannot be ignored, making expanded capacity and storage simply affordable.
5. 770N
The Dell PowerVault 770N Network Attached Storage (NAS) servers are ideal for those looking to consolidate storage or manage large archived files. They connect to existing local area networks (LANs) or storage area networks (SANs) offering simple deployment and powerful performance that can ultimately help you conserve IT resources and lower your total cost of ownership. The ability to scale capacity with SCSI, fibre channel or SAN-based storage makes the PowerVault 770N  incredibly flexible solutions that can be redeployed as your business needs change. Plus, deploying a common storage architecture helps to reduce the complexity of storage consolidation and simplify your storage management. For optimum performance, the PowerVault NAS servers use a Microsoft Windows powered operating system. If system redundancy and rack density are the most critical factors in choosing a storage solution, the PowerVault 770N  is your ideal choice with dual Intel Xeon processors, dual embedded Gigabit NICs, three PCI-X slots, and a Dual Channel RAID on the motherboard (ROMB) all in a 2U rack dense form factor. If expandability is key, the PowerVault 770N is the answer, with eight I/O channels and one embedded 10/100/1000 NIC.
Simplicity
The PowerVault 770N  storage servers are designed with manageability and simplicity in mind. They can be deployed right out of the box anywhere in your enterprise in as little as 15 minutes and can be managed via a Web browser.
The PowerVault 770N  also feature advanced management capabilities to make your life easier, including Multiple Device Management, an administration tool that enables you to manage data in multiple appliances from a central location and Dell's Server Appliance Kit (SAK) Status Reporting that provides real-time memory, capacity, operating system revisions and system information monitoring. The PowerVault 770N   powerful performance and incredible flexibility make them an ideal choice for your storage consolidation, network infrastructure storage applications and optimised file serving.