Shining Light Productions' Technical Support is highly acclaimed by many as the best in the software industry. The reason? You get to talk to the original/current developer of the product one-on-one…this means that there is no annoying third party using scripted responses.
The downside is that, since you ARE e-mailing a real developer, you need to realize this and respect the developer, no matter what mood he/she is in. A developer's time is extremely valuable and a developer may not be in the most pleasant mood all the time. You can quickly get on any developer's nerves by e-mailing multiple times, mis-spelling, mis-communicating, need to be told where your "Start" button is, or you manage to catch the developer at the end of an eight hour debugging session (or worse, the frantic portion of a release cycle). Shining Light Productions aims to be polite, but does not tolerate someone intentionally wasting a developer's time. In addition to being concise, organized, and communicating clearly, below are some guidelines to follow that make the Shining Light Productions developer's job that much easier to formulate a good response in a timely manner.
Bug Reports: To report a bug in ProtoNova, send an e-mail to Shining Light Productions describing your system setup, your server configuration file, related configuration files, what your intended goal is, and provide all related information (no matter how irrelevant it seems) to the bug.
Feature Requests: To suggest a feature, send an e-mail to Shining Light Productions describing the feature in as much detail as possible. Try to think of ways to make it benefit other users and thus make it a powerful, generic feature.
General Questions: If none of the above applies to your question, make sure it hasn't already been answered. For general questions or problems send an e-mail to Shining Light Productions containing your question about/problem(s) with the product. If applicable, send your configuration file that demonstrates the problem.
Purchase a Software Key
Shining Light Productions uses PayPal for all software key purchases because it is fast, easy, and secure.
Typically, all software key purchases are resolved in 24 hours or less. However, please allow 1-3 business days for Shining Light Productions to process your purchase and send you your key(s) via e-mail just in case the sales person is swamped.
To purchase one or more software keys for ProtoNova, click the button below. Clicking the button will take you to PayPal's website to pay for one or more software keys:
System Requirements
Minimum system requirements:
Windows 95/98/Me/NT/2000/XP/Longhorn
16MB RAM
200MHz CPU
20MB hard drive space
Recommended system requirements:
Windows 95/98/Me/NT/2000/XP/Longhorn
64MB RAM
350MHz CPU
100MB hard drive space
ProtoNova is the revolutionary new web server that will change the way you view web technologies forever. ProtoNova is easy to set up, simple to use, and is secured right out-of-the-box. Web developers love ProtoNova for its simplicity and ease-of-use while ISPs enjoy its massive server cluster capabilities.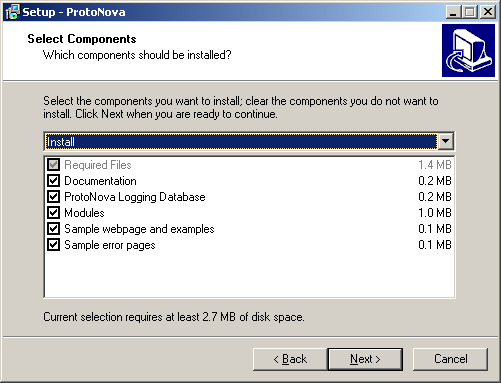 It  occur as components of a broader computing infrastructure, where many clients share their computations with a server or server farm. The server-side infrastructure uses cloud computing software such as application virtualization, hosted shared desktop (HSD) or desktop virtualization (VDI). This combination forms what is known as a cloud-based system where desktop resources are centralized at one or more data centers. The benefits of centralization are hardware resource optimization, reduced software maintenance, and improved security.
Example of hardware resource optimization: Cabling, busing and I/O can be minimized while idle memory and processing power can be applied to user sessions that most need it.
Example of reduced software maintenance: Software patching and OS migrations can be applied, tested and activated for all users in one instance to accelerate roll-out and improve administrative efficiency.
Example of improved security: Software assets are centralized and easily fire-walled, monitored and protected. Sensitive data is uncompromised in cases of desktop loss or theft.
It generally support a keyboard, mouse, monitor, jacks for sound peripherals, and open ports for USB devices (e.g., printer, flash drive, webcam, card reader or smartphone). Some thin clients include legacy serial or parallel ports to support older devices such as receipt printers, scales or time clocks. Thin client software typically consists of a graphical user interface (GUI), cloud access agents (e.g., RDP, ICA, PCoIP, JentuRemote, VNC), a local web browser, terminal emulators (in some cases), and a basic set of local utilities.
SL Pro Type
SLPro T15: Low Zero client for task user without compromising performance, No Proprietary Protocol Required on Host Computer and Easy to Manage. Fully Compatible with Microsoft.
SLPro  T241: High Performance Thin Client , lowest power consumption 7watt, Multiple OS (Linux & Windows), customizable configuration
SLPro T150
After Serving since 17 Years in IT to our most valuable customer and multiple successful product launch S L infoway has come up with most performing and cost effective Thin Client. Empower your team with High Performance thin Client, Most suitable Device for Task user installed with most use full feature and application. Ready to Connect with Microsoft Environment. User will enjoy the Graphics and enhanced features. Thin and Small in Size means a lot of Space saving and easy to Manage. With SLPro T150 save a lot in power and air-conditioning.
Specifications             SLPro T150
Processor                      RK3229 32bit& ARM Quad Core A7 MP 1.5GHz
Graphics                       Processor Penta-core ARM Mali-400 GPU/Integrated                                              SOC
RAM/ROM                       DDR3 2GB/ Onboard NAND Flash 8GB
Expand Memory            Micro SD up to 32 GB
Networking IEEE           802.11 b/g/n/,2.4G , 100Mbps LAN
Display                                 up to 1920×1080
Ports                                      2 x USB2.0, 1xDC IN, 1xAV, 1x HDMI 2.0
Power                                   5w Power Adaptor
OS/Protocol                       Android 6.0/ MS RDP Client
Language                              Multi Language
Work Environment          5°C–35°C,30%–90% Humidity
Storage Environment     -20°C–60°C,10%–90% Humidity
Warranty                               One Year
Features And Benefits
Easy to Install and Manage
Power Saving run only 5W Light Weight and space saving
Long Lasting Life Multi-Application Supported
Ready to Connect with MS RDP environment
Increased Productivity SOC based System
Means Less Chances of Failure