It work on the basis of  OpenScape Business for modern and future-proof all-in-one communication solution (PABX) for Unified Communication & Collaboration, specially tailored to the requirements of small and medium sized enterprises with one or more locations. It offers:
Best in Class and Award winning Voice & UC Solution for SMB
Scalable from 2-2000 Users for Standalone and Multisite environments
All-In-One Solution incl. feature rich Voice, Presence, Conferencing, Contact Center, Messaging, IM, Mobility, Fax
Support of any given end-customer infrastructure incl.comprehensive virtualization-options for Voice & UC
Easy-to-order & pre-packaged, easy-to-install
Software Upgrades and Service included for 3 or 5 years
Ready for new All-IP / ITSP based Services (SIP Provider)
Connectivity with CIRCUIT (WebRTC) to provide additional Services like Video, Screenshare, etc.
OpenScape Business
OpenScape Business offers small and medium-sized enterprises everything they need for their individual and diverse communication requirements, unified in a single flexible and scalable solution. The OpenScape Business architecture allows use independently of the existing telephony infrastructure regardless of whether this is classic telephony, IP or DECT. From powerful telephony to a feature-rich set Unified Communication (UC) solution, OpenScape Business always provides with the right solution. With Circuit, the Unify cloud-based WebRTC solution connected to OpenScape Business, customers experience hin teams can easily be considerably improved.
As standalone system up to 1500 subscribers and in networked systems up to 2000 subscribers can be connected.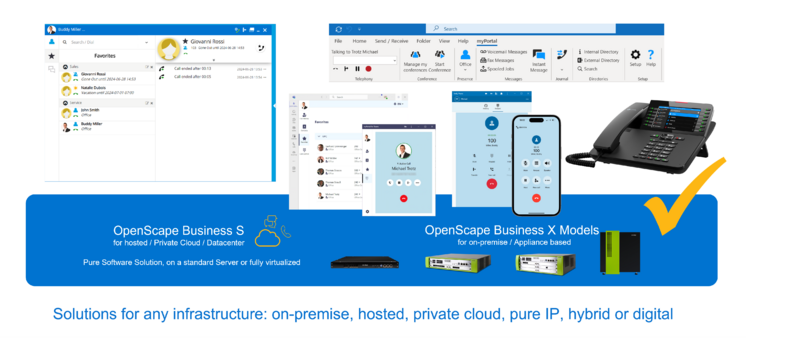 New Features
Since market introduction the feature set of OpenScape Businsse has been continuously enhanced and improved. The following link contains an overview about the SW versions and the enhancements.
OpenScape Business Models
Different models are available for the use of telephony and UC functionality.
| | OpenScape Business X1 | OpenScape Business X3 | OpenScape Business X5 | OpenScape Business X8 | OpenScape Business S |
| --- | --- | --- | --- | --- | --- |
| Rack systems | | | | | |
| Wall systems | | | | | |
| Server systems | | | | | |
Hardware Platforms
OpenScape Business X1, X3, X5 or X8 are "All-In-One" HW platforms with onboard IP access and support for up to 500 subscribers with IP, digital (UP0E), ISDN (BRI), analog (a/b), cordless (DECT) devices. UC Smart application is fully embedded. Connection to public WAN is done via SIP (LAN), ISDN (BRI and PRI) or analog trunks.
UC Booster Platforms
Two UC Booster options are available for OpenScape Business X3/X5 or X8:
OpenScape Business UC Booster Card is a Plug-In module for OpenScape Busness X3,X5 and X8. It is required for the UC Suite solution up to 150 UC users
OpenScape Business UC Booster Server is required for OpenScape Business X3/X5/X8 in case of of more than 150 UC users. The UC Booster Server is based on Linux (Novell SLES) and can be operated either on a server HW directly or in vitualized environment using VMware vSphere.
By using the UC Booster options the X3R, X5R and X8 models also can be enhanced with the following functions:
Open Directory Service
CSTA interface for connecting external applications
OpenStage Gate View with up to two cameras
Software Platforms
OpenScape Business S is the server-based "All-In-One" telefony and UC platform, which supports up to 1500 IP subscribers and IP (SIP) connection to the public network (WAN). It is designed for Linux (Novell SLES) operating system and can be operated either on a physical or on virtual machines with VMware vSphere. OpenScape Business S can be networked with OpenScape Business X1, X3, X5 or X8 as gateway for ISDN or anlog trunks or TDM / analog devices.
Features
OpenScape Business offers a unified software solution architecture based on modern and innovative communication technologies.
All-In-One Unified Communication solution for small and medium enterprises

Integrated voice services
Presence management (presence status)
Status based call forwarding
Call Journal
Favorites list
Dialing by mouse click
Visual voicemail
Drag and Drop Conference
Directory access with database connection
Mobility support
Fax support
Integration into business processes
Instant Messaging (IM)
etc.

Multichannel Contact Center
Integration of OpenScape Web Collaboration
Connectivity to Circuit
Multiple Sites support
Unified solution architecture

Scalable and flexible HW / SW and licensing
Easy to handle migration from HiPath 3000 to OpenScape Business (System box and almost all existing devices can be reused only the motherboard and the SW has to be replaced)
Voice features
Making calls: Setting up a connection, e.g., via speed dialing or directories
Call Signaling, Calling Line ID: CLIP, CLIR, COLP und COLR.
Functions during the call: Holding, redirecting and transferring calls
Controlling availability: Call forwarding and call forwarding – no answer
Conferencing: Different types of application-controlled and phone-controlled conferences
Optimizing communication: Handling calls more efficiently and sending texts to internal subscribers
Easy Operation: Resetting activated features, Direct Inward System Access (DISA) and multilingual text output
Working in a team (groups): Multiple subscribers and phones can be reached under one station number
UCD (Uniform Call Distribution): Uniform distribution of incoming calls to a group of subscribers (UCD group).
Emergency Calls: Hotline/Hotline after timeout or an emergency service
etc.
Supported phones and devices
OpenScape Desk Phone CP (IP/HFA, SIP)

OpenScape Desk Phone CP 200/205, 400, 600
OpenStage phones (IP/HFA, SIP and T)

OpenStage 10 T, 15,15 T,40, 40 G, 40 T, 60, 60 G, 60 T

OpenScape Desk Phone (IP,/HFA, SIP)

OpenScape Desk Phone IP 35G and OpenScape Desk Phone IP 55G

OpenStage Key Modules

OpenStage Key Module 40, 60 and 80 for OpenStage 40 and 60
OpenStage Key Module 15 only for OpenStage 15
OpenStage Busy Lamp Field 40 only for OpenStage 40/60 HFA and OpenStage 30 T / 40 T / 60 T

Cordless CMI/DECT – IP/DECT telephones 

OpenScape DECT Phone SL5, OpenScape DECT Phone S5, OpenStage SL4 professional, Gigaset S4 professional, OpenStage M3

PC Clients (HFA, SIP)

OpenScape Personal Edition (including Video support for SIP)

SIP phones (UC Suite) / AP adapter

SIP phones with RFC 3725 support.
Mediatrix 4102S (for connecting 2 Analog phones or G.3 FAX devices)
WLAN phones
Analog and ISDN phones

Analog (a/b) phones
Digital (S0) ISDN phones
 note:
Devices, which are no longer part of the current product portfolio of Unify, (such as optiPoint 410/420/500; Gigaset Handsets: SL3/S4/M2; OpenStage 5/20/80) can still be connected and operated with OpenScape Business. In case of technical problem no support is given by Unify if the milestone "End od Support" has been reached. For further details such as the required software versions for each device, refer to the respective technical release notes.
Optiset E devices cannot be operated in general.
Unified Communications
OpenScape Business provides two alternativ flavours of Unified Communications, depending on the needs:
UC Smart
UC Smart SW is fully embedded within the OpenScape Business SW running either on the motherboard of OpenScape Business X3/X5 and X8 or on the UC Booster. It comprises the following Unified Communications and Collaborations features.
Presence incl. status based announcements
Conference planned/adhoc
Favorites List incl. Call Status
Directories
Call Journals incl. Reminder
Status based Call Forwarding
Call Control (CTI) incl. dialing by hotkey
Visual VoiceMail Control
Instant Messaging (Chat)
Web Collaborationt
The UC Smart solution offers two clients:
myPortal Smart
myPortal to go
UC Suite
UC suite comprises extensive functions for such as:
Presence incl. status based announcements
Conference planned/adhoc
Favorites List incl. Call Status
Directories, opt. with ext. database connection
Call Journals incl. reminder
Status based Call Forwarding
CallMe!
Personal Auto Attendant
Call Control (CTI) incl. dialing by mouse click or hotkey
Voice Message Box
Fax Message Box
Notifications
Instant Messaging (Chat)
Voice Recording
Multichannel Contact Center
Web Collaboration
Operation of UC Suite in combination with OpenScape Business X models requires either the UC Booster Card od the UC Booster Server, in case of extended number of Unified Communications users. No additional UC Booster HW is required in case of OpenScape Business S.
The UC Suite solution offers several Unified Communbications clients:
myPortal for Desktop
myPortal for Outlook as Add On for Microsoft Outlook
myAttendant
myPortal to go
Multichannel Contact Center
The Multichannel Contact Center option is available for OpenScape Business UC Suite. The embedded Contact Center solution offers two clients for use within the contact center environment:
myAgent as agent and supervisor desktop application
myReports as client for report creation
Note:
The information provided in these documents contains merely general descriptions or characteristics of performance which in case of actual use do not always apply as described or which may change as a result of further development of the products.
Mobility options for mobile employees
OpenScape Business offers embedded mobility services and solutions for any enterprise. These comprise:
Integration of smartphones of mobile workers
Support of cordless and WLAN telephones within the office
DeskSharing solution
Teleworking solution
OpenScape Business Mobility provides features like:
Smartphone and tablet PC integation into UC solution
One Number Service regardless of location and used device
Dual mode telephony (UMTS / WLAN) support at public hotspots
Mobile Logon
CallMe function
VPN support
etc.