About Virtualaze
Virtualaze is a German 'high-end' server application Virtualization software development company. With hundreds of man-years software development expertise our aim is to simplify the deliver, cost and management of the global virtualization phenomenon. Inaddition to new hardware there are millions of legacy computer devices world-wide all capable of delivering an HTML5 browser. By adopting Virtualaze, these devices can give the user unique access to the most powerful Windows Apps. They will also benefit from the latest server-side Data and Security protocols available. By mobilizing Virtualaze we will all help towards saving the environment by delivering a technology that extends the lifecycle of computer hardware whilst reducing the reliance on new hardware devices.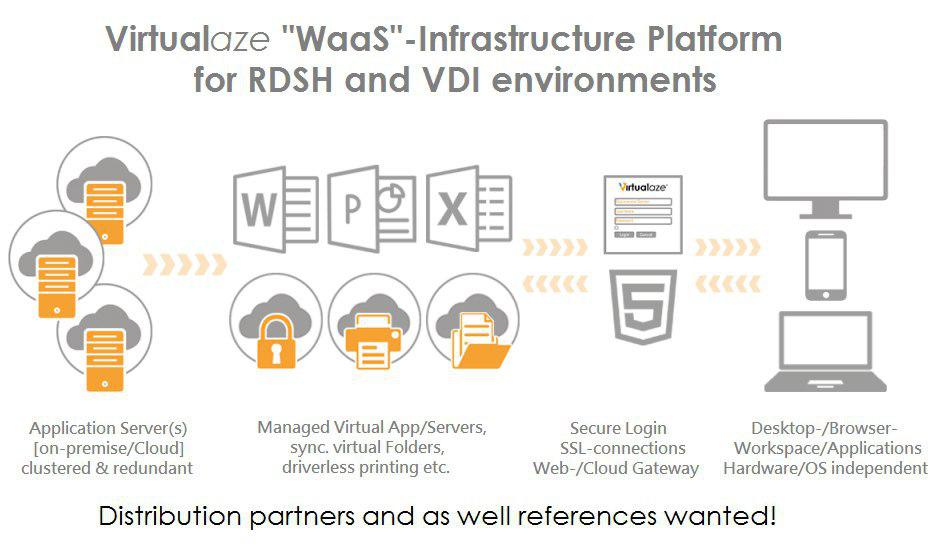 Virtualaze and the General Data Protection Regulation
The new European General Data Protection Regulation (GDPR) will come in to
force on 25 May 2018. It raises the bar in terms of 'proof of data protection'.This at a time when Virtualaze sales partners and customers are increasingly relying on cloud services…. usually in the form of so-called multi-cloud environments. With this document Virtualaze provides a little more clarification. The trend of the Cloud use is booming in every economy, or so the Bitkom association survey stated in March of this year. Approximately two thirds of first world companies use the cloud,however, the term Cloud is misleading. There is no Cloud, but only a multitude of services from different cloud environments. Modern IT organizations or enterprises run private clouds, complementing them with SaaS offerings, cloud backup and recovery services, resulting in a complex hybrid cloud environment. In addition, there are individual company departments with their own IT budgets that use or subscribe to cloud-based industry solutions (ERP, CRM, etc.), file-sharing
and storage services or other tools. In addition, there are smart end users who
usually tailor cloud services for their own needs – keyword: shadow IT.
The blossoming of the cloud has created a parallel world of data storage. Any
overview is quickly lost here: IT will soon no longer have an overview of the apps, services, data storage and access rights in use. This development is dramatic because in the age of digitalization, data has long since become a company's most important asset. The situation is now aggravated by the fact that from May 2018, European legislators will be demanding significantly stricter, auditable proof of the correct handling of data – at least personal data – and will punish violations with heavy fines. There are two possible solutions to provide the necessary overview and thus the basis for GDPR conformity:
With the digital Virtualaze Workspace, companies can bundle employee access to all apps, data and services. By means of digital workstations such as those provided by the Virtualaze platform, employees can access all their resources from any terminal device via native access software or a uniform web interface. This enables centralized control of all data calls and movements.